Public attitudes on genome editing in life sciences research – How can research organisations meet the public's views, hopes and expectations? 
These are the reports from the ORION public dialogues on genome editing, which were conducted in the UK, Germany, Czech Republic and Sweden during 2019 and 2020 and were undertaken by Ipsos MORI. The dialogues sought to explore public attitudes to fundamental life sciences research when revolutionary genome editing technologies are used in order to inform research organisations about when and how to engage audiences with emerging technologies. 
Public dialogue events were held between November 2019 and January 2020 in four countries where ORION partner institutions are located; the UK, Germany, Sweden and the Czech Republic. Around 30 members of the public attended a 1,5 days convened event in each of the countries, alongside scientists and other technical experts who provided specific knowledge and expertise.
A report is available for each of the countries the public dialogue events were held in, as well as an overarching report which synthesises findings from across all the events (see further below). During the events, members of the public discussed current uses of genome editing technology in life sciences research, possible future uses of the technology, and explored the best ways for the ORION partners to engage with the public about genome editing. The diagram below depicts conclusions from the research across all four countries and recommendations for the ORION partners: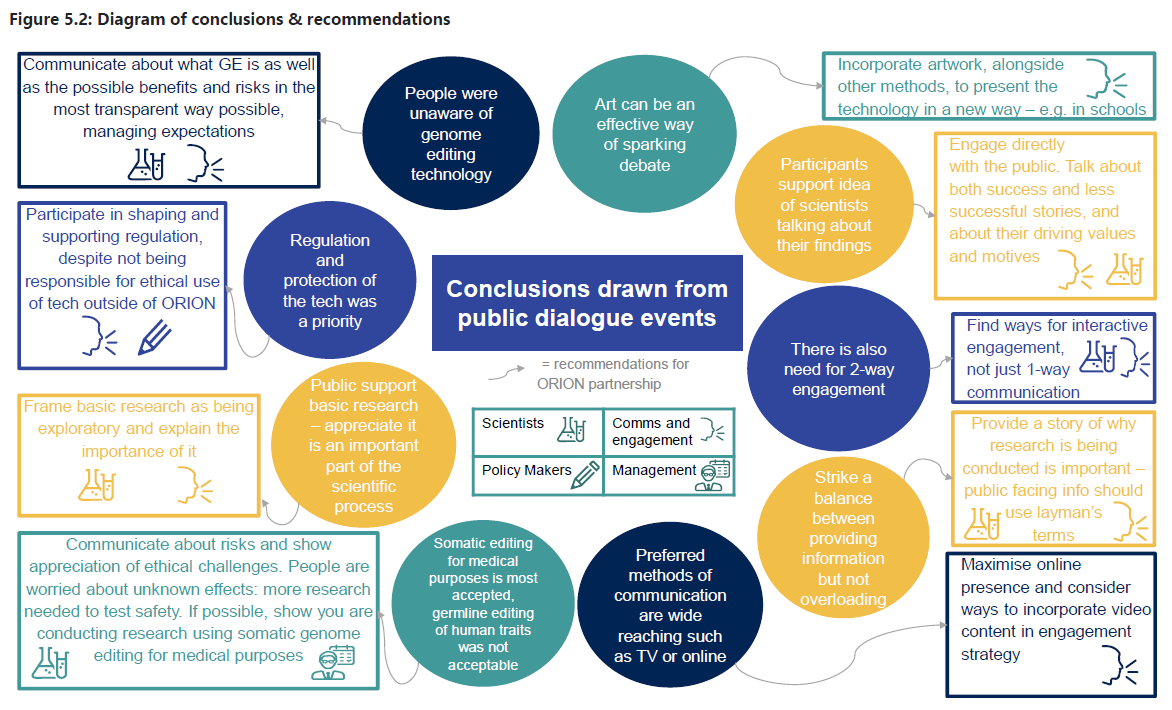 Contact: Emma Martinez, Coordinator ORION public dialogue on genome editing, Project Officer at Babraham Institute (Cambridge, UK).
Further reading: